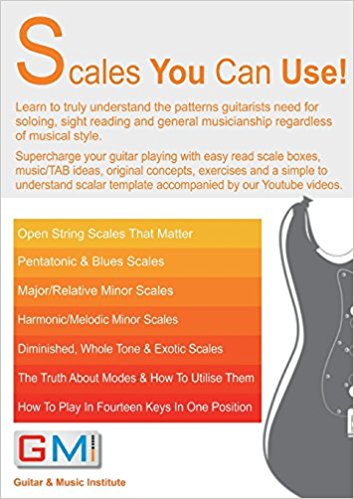 A List Of My Publications
Here are a list of my publications for guitar players. All of these books are printed versions which can be bought from Amazon. If you would like to buy PDF versions, please visit the GMI – Guitar & Music Institute shop. The GMI online shop in addition to selling PDFs and other guitar products also has a large range of completely free downloads for you to use.
CLICK THE IMAGE OF A BOOK OR THE BOOK TITLE TO BE TAKEN TO AMAZON.
FURTHER DETAILS
A full colour publication offered in physical print, ePub and PDF Download form, 152 pages long.
An easy to understand template system that enables you to learn and play major, natural, harmonic and melodic minor scales over the entire neck in seven positions.
Scales You Can Use! includes tutorials and shows you how to play pentatonics in 10 different keys in one position.
Learn how you can play in fourteen keys in one position using modal scales giving you complete musical control over key changes!
Included are fret maps which detail a simple to understand root based system in two key positions giving you complete understanding.
Theoretical explanations of pentatonic, major, melodic and harmonic minor, blues, chromatic, whole tone and diminished scales.
A suite of "exotic" scales are also included for those that are looking to learn patterns that are on the fringe.
Original music examples in music and TAB provided throughout Scales You Can Use! to ensure that you really learn the patterns shown.
Open string patterns cover major, minor, pentatonic and blues scales.
If you think you know what the cycle of fifths is about, then think again! Scales You Can Use! shows again and again how you can use this to the max!
Divided into three chapters – Open Scale Patterns – Fretted Scale Patterns – Symmetrical Scale Patterns, each section within these chapters includes blank chord boxes and staff/TAB sheets for your own workings and examples.
Traversing the entire neck in one key, playing round the cycle of fifths in one position, major, harmonic and minor scale comparison sheets are in there to give you the best chance of getting your scalar knowledge together once and for all!
Modes are also covered and demystified showing you how to both create and apply these often misunderstood patterns.
All three chapters are backed up by our Youtube videos viewable via QR codes so you can view the scales being demonstrated by GMI's Ged Brockie.
FURTHER DETAILS
A full colour publication in physical print form, 120 pages long.
An easy to understand system that enables you to generate the same chord over the entire neck and across all string sets.
Drop Two Voicings Uncovered details how guitarists can extend their chordal knowledge and is for any guitarist who aspires to play jazz, extend their chord knowledge in usable forms for blues, funk, pop and a wide range of other musical genres and scenarios.
There are nearly 1100 individual chord boxes used within the book with no music reading skills needed to get the most from this volume.
Learn not only how to play new chord ideas, but how to generate new chord forms and crucially how to use them within some of the most widely used progressions in music.
A comprehensive thirteen part video course (nearly two hours of video) complements and develops each lesson within the guitar book. These videos are view-able on both the GMI Youtube channel and within the GMI website blog area.
Purchasers of the guitar book can download additional learning materials that extend your use of Drop Two Voicings Uncovered. Further chordal ideas in a downloadable pdf book and 21 mp3 backing tracks to practice along with will be offered.
Periodical free updates sheets will be offered to book owners.
REVIEWS
This book is a revelation! I am an experienced classical guitarist who wanted to find out about other styles. Drop Two Voicings Uncovered is quite mind blowing. Its like a Pandora's box. Not only does is set out chords, their inversions across 4 adjacent strings, it presents them in the most useful chord progressions. Each lesson has YouTube videos and many supporting downloads. Highly recommended
5.0 out of 5 starsGreat Book to improve your chord vocabulary!
July 26, 2017
Format: Paperback
Verified Purchase
I've been playing guitar for many years and about 2 years ago started to learn jazz. I am focusing on chord melody and have heard a lot about these elusive "drop 2" chords. Several times I tried to venture into the drop 2 world only to get confused and discard it. Then I came across this book. First, the book format is great! I love the large chord diagrams, and the progressive nature the material proceeds in. The YouTube videos and supplemental material make it a great deal and a tereffic learning resource. It is amazing how quickly you will start to get this stuff under your fingers and improve your skills. It has become part of my daily practice routine. If it came spiral bound, I would give it 6 stars!!
Chuckster
28 July 2016
Format: Paperback
Verified Purchase
This is a book that I'll use for many years to come. The information is presented beautifully with great clarity and the online supporting material is first class, overall a carefully considered concept bringing together traditional learning methods with newer IT based modes. A great buy, would highly recommend.
10 November 2016
Format: Paperback
Verified Purchase
Very well designed book, which covers all of the areas of ii V I progressions and drop two voicing
I can highly recomend it to any guitarist who is seeking to learn more in depth about the most common in jazz progressions
16 July 2016
Format: Paperback
Verified Purchase
Ged Brockie is a very experienced professional musician, composer and tutor. This book (together with its associated online links) presents a tremendous amount of information in a well structured way. The material is easily accessible and, most important for me, usable. Imho, a very worthwhile purchase!
26 July 2016
Format: Paperback
Verified Purchase
A detailed yet simple guide to enhance your playing – nice one Ged
YOUTUBE REVIEWS
This is the best lesson about this topic on the internet. Thank you.
Amazing video where I finally understood the concept!!!! Little correction at 
16:18
 on the chord grids for Fmaj7, for the one on the left, it shows the pinky landing on fret 4 of the 2nd string, and it should stretch all the way to the fret 5, to reach that 7th note: E (as shown correctly on the video).
The best course on youtube to assimilate the drop 2, the speed of the course and explanations are perfect. Nevertheless on the tablature examples, I would rather encode the pitches of note: 1; 3 (b); 5: 7 (b) than the fingerings, for even more understanding. Another thing, the teacher is sober and friendly. thanks again
best drop 2 voicing video , thank you !
This is a really practical, correct approach which gives a proper, solid grounding in the concept of drop 2 chords. It's an approach which is sadly lacking in most youtube videos and I suspect that Ged wouldn't even think of doing it any other way. Very enlightening and thank you.
The Fastlines series of tutors are low cost books which include examples of melodic ideas that can be played over a specific style. The series was created back in the early 1990's and was redesigned, re-formatted and the original music transfered over to digital.
Here is an example of one of books from the Fastlines series. CLicking the image or headline text will take you to a page displaying all titles on Amazon.
For guitarist looking to learn jazz guitar, the Fastlines Jazz Guitar Method Primer edition gives you
the musical ideas to create improvisations that sound authentic.
20 different licks with descriptions of how the lines were created.
10 written projects which explain how to edit and change your licks in various ways.
1 short solo based in part on the lines you have learned.
Backing tracks to play along with.
NOTE: The backing tracks and audio are download from the www.guitarandmusicinstitute.com website.
Current Titles In The Fastlines Series
Fastlines Jazz Intermediate
Fastlines Jazz Advanced
Fastlines Blues Primer
Does exactly what it says on the tin. One of the best selling books on GMI it consists of one hundred pages with sixteen blank chord boxes of five frets each on a page.
Really helpful to ensure that you don't have hundreds of scraps of paper lying around the house when you can keep them all in one handy place.
Another utility book which proves very popular for all the reasons given above for the blank chord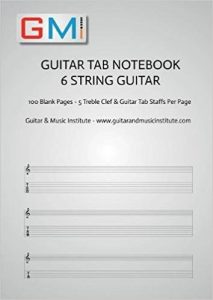 box publication. Again, it simply consists of one hundred pages. Each page includes musical staffs which have TAB underneath each one.
The TAB and staff have bar lines only at the beginning and the end and the staff/TABs are well spaced out across the page for any notes you may wish to add to your ideas.